In a number of countries, partners of Kindermissionswerk have successfully introduced the tradition of carolling for children in need – bringing the Carol Singers' blessings to local homes, raising funds, learning about sharing and global solidarity – and having fun.
Eastern Africa
Kenya: barefoot and in 35 degrees Celsius heat, local Carol Singers venture out. Here, they are writing their blessing on the gate of a hangar. In medical emergencies, the plane is their only means to reach a hospital.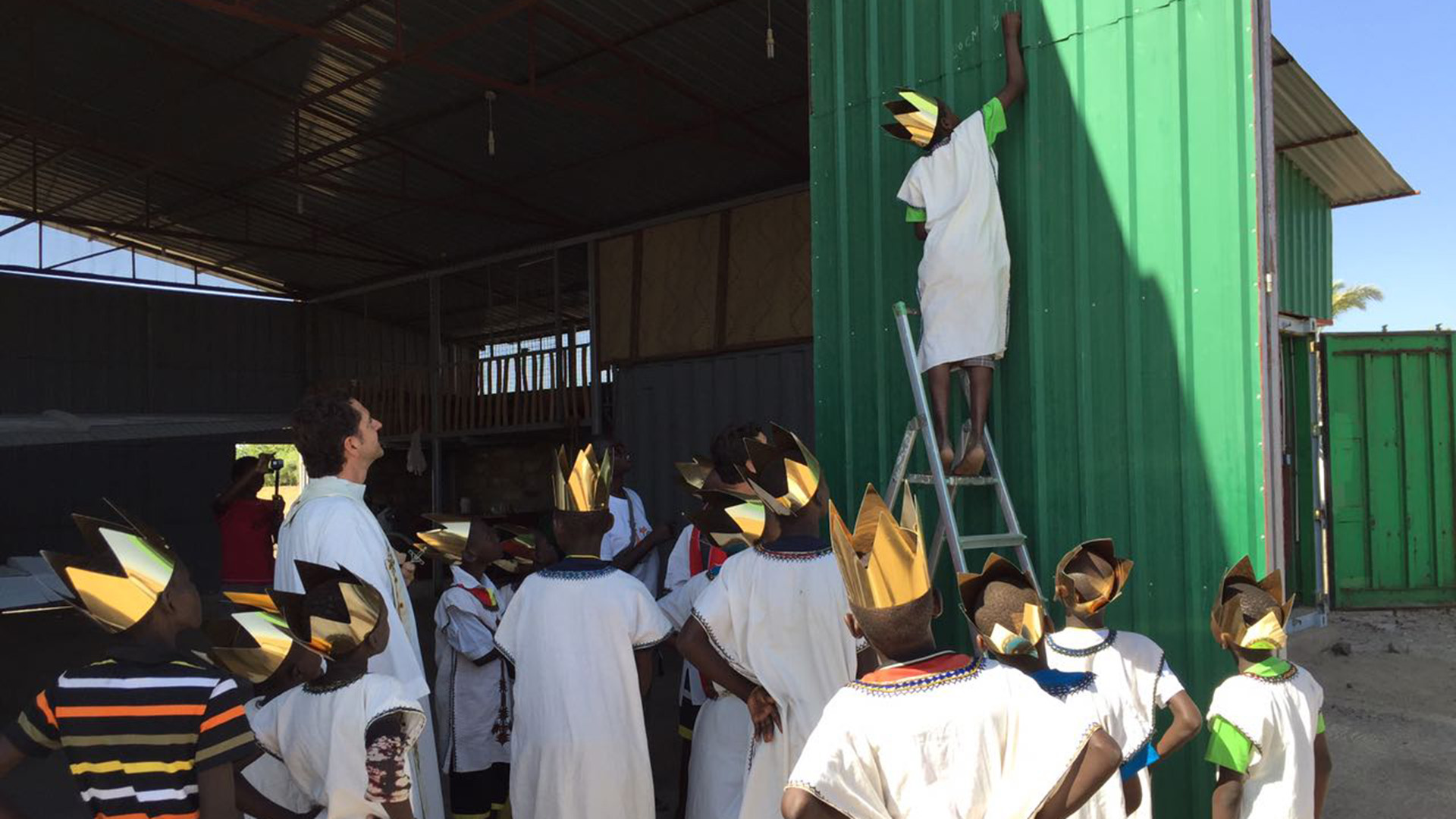 Latin America
Carol Singers are also active in Colombia. Here, Ángel, Christian and Mateos from the day-care centre Sagrada Familia in Villavicencio are singing for a family.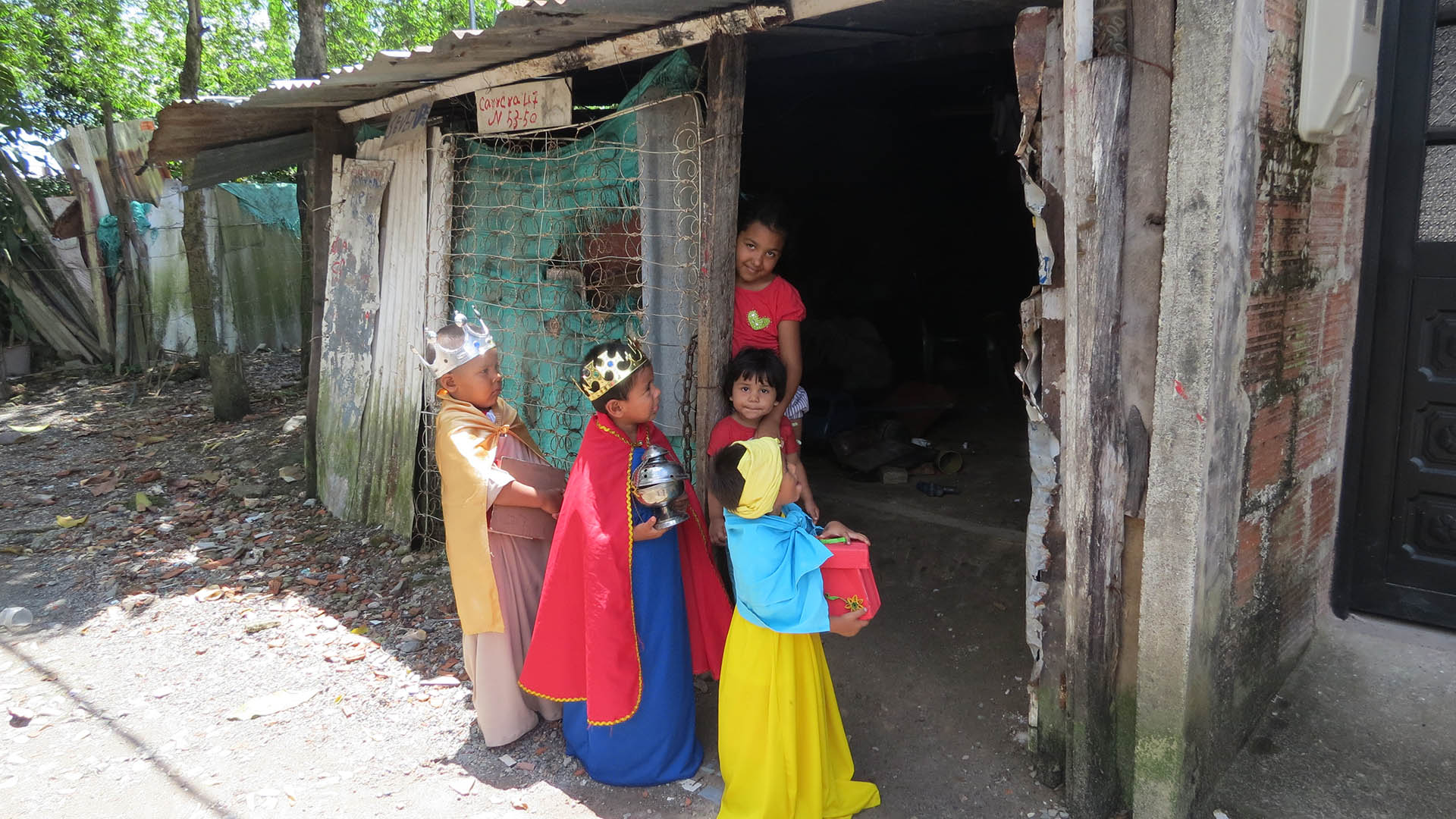 Southern Europe
In Pfalzen in South Tyrol, there usually is snow during carolling time. A freezing cold but beautiful experience!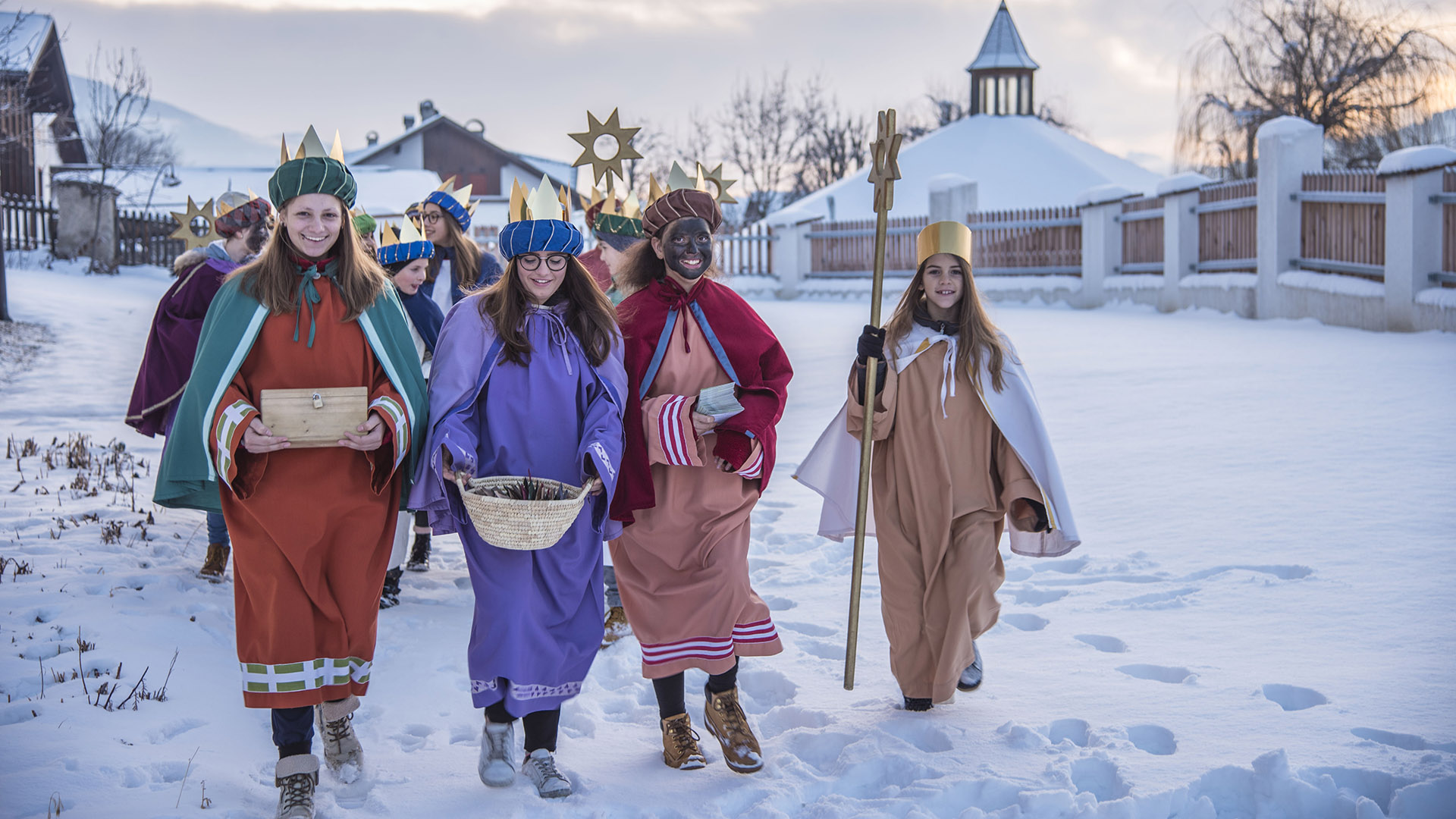 Eastern Europe
In Ukraine, the Carol Singers only start to go carolling after January 7th, when Christmas is celebrated in the local Orthodox tradition. For a number of years now, they have managed to raise funds for their summer camps "Happy Holidays with God".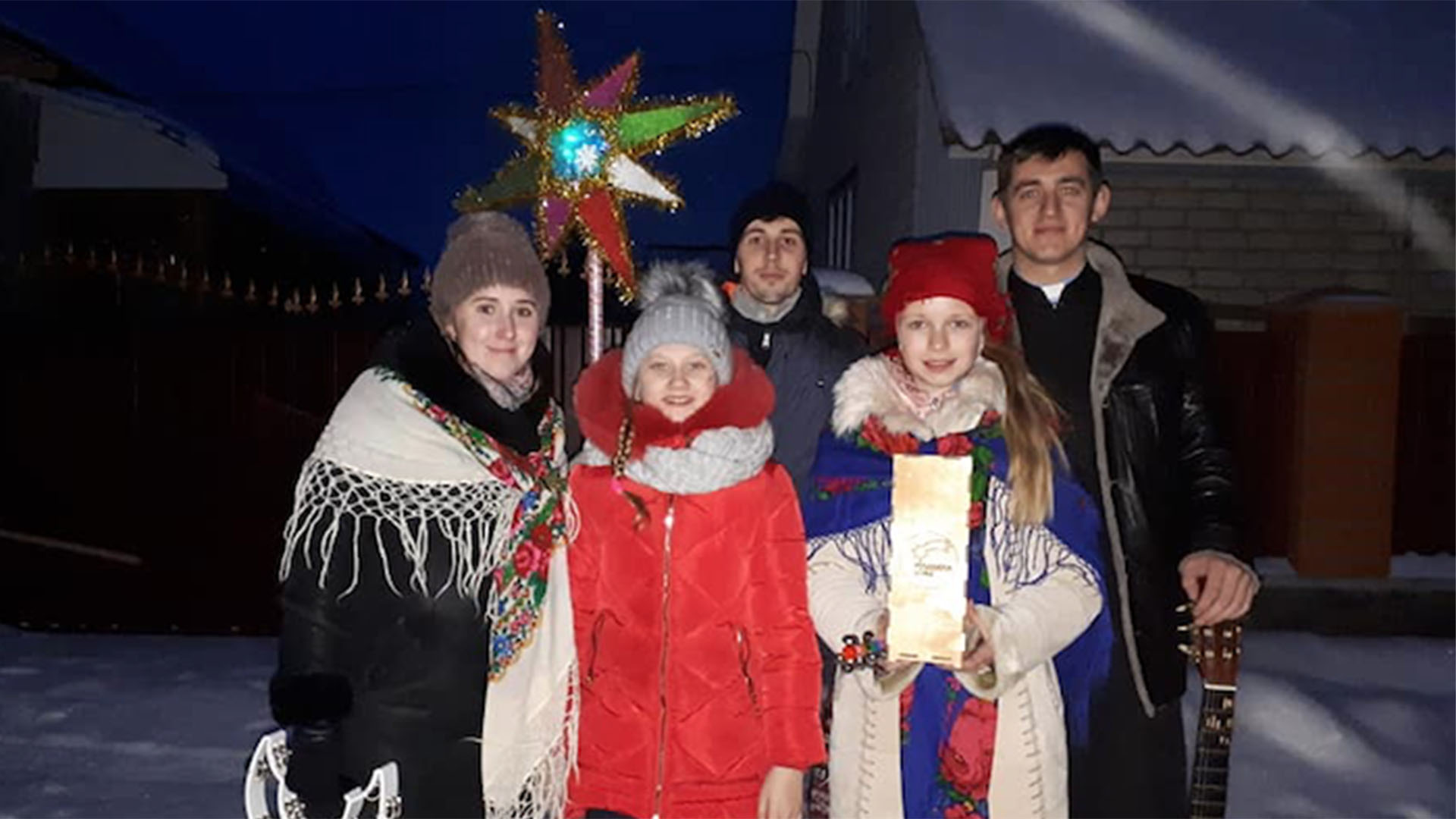 Western Africa
In Bo in Sierra Leone, the Carol Singers receive tokens of packaged, clean drinking water for their efforts. A treat in 32 degrees Celsius heat!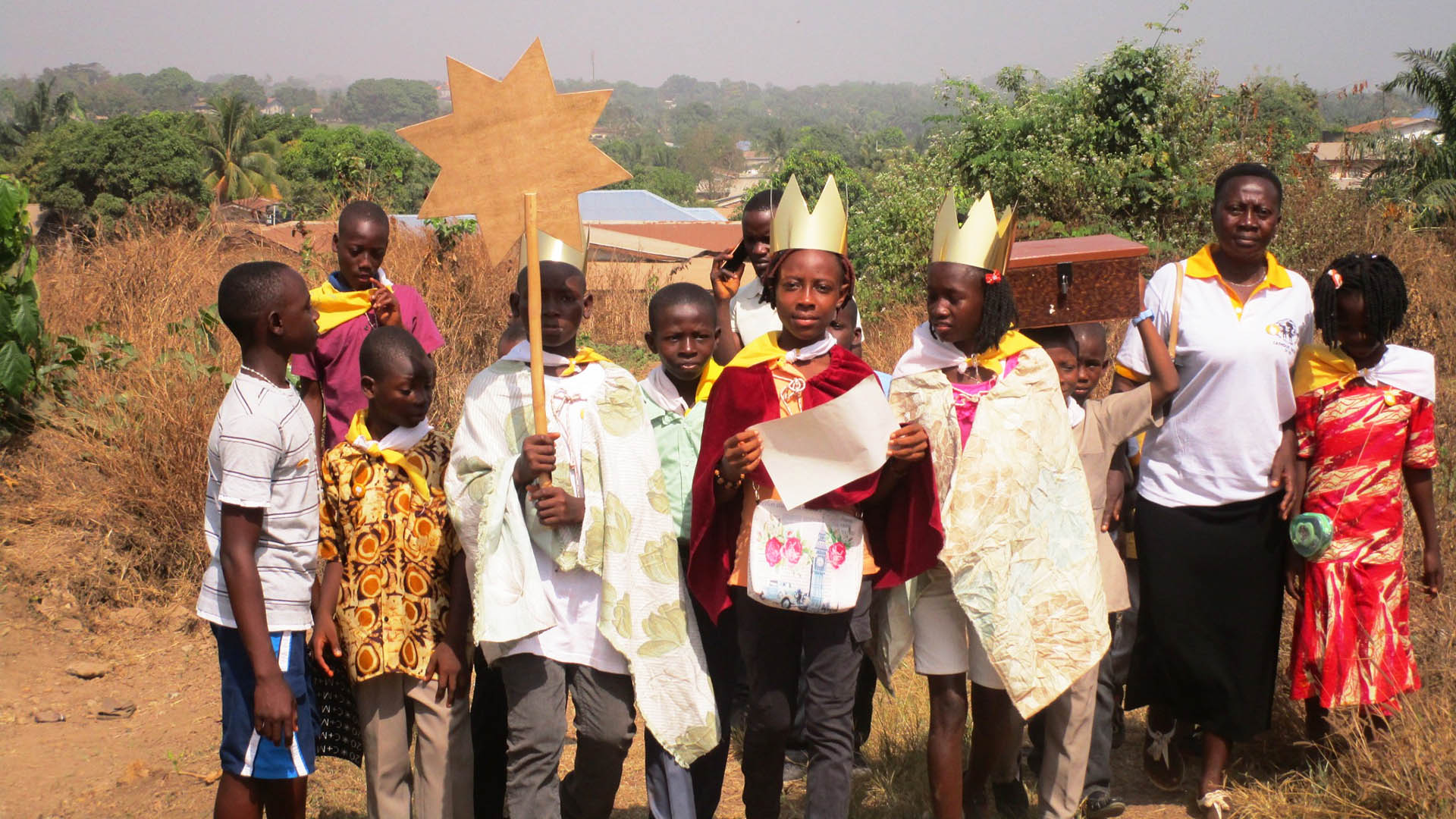 Until the winter of 2016, no child in Bo, the second biggest city of Sierra Leone, had ever heard of carolling, or of the German Carol Singers' Campaign – even though Kindermissionswerk 'Die Sternsinger' had been supporting numerous projects in the West-African nation for years. Sierra Leone is still struggling with the effects of the civil war which ended in 2002, and also the effects of the Ebola epidemic which lasted from 2014 to 2016. After a visit to Germany, the Bishop of Bo, Charles Campbell, decided to introduce carolling in his diocese. Soon, a number of youth leaders and children were busy singing, practicing and crafting the necessary items. They secured fabrics from local markets for the royal gowns, and Kindermissionswerk 'Die Sternsinger' sent a package of crowns and adhesive labels with the Magi's blessings through German aid worker Mechthild Schmidt. At the same time, the meaning and tradition of carolling were explained to local congregations.
Finally, in January 2017, they were off: Bracing 32 degrees Celsius heat, the Carol Singers marched through the city and visited people in their homes. Instead of sweets, as is customary in Germany, the children received clean packaged drinking water. Altogether, the Carol Singers raised 370 Euro - an enormous amount for Sierra Leone. The donations were used for food, clothing, shoes, blankets and other necessities for street children in Bo. After this successful beginning, everybody wants to continue the practice of carolling in the years to come.